Rochester Medical, Inc. perfektionierte das Urinalkondom
Wer sich in den Jahren 1990 bis 2017 für Urinalkondome und Urinkatheter interessierte, wird auch die Inkontinenzprodukte von »Rochester Medical« entdeckt haben. Obwohl es die Firma nicht mehr gibt, hat sie das »Kondomurinal« sehr bekannt gemacht und große Verbesserungen im Bereich der Katheter bewirkt. In diesem Beitrag haben wir einige spannende Informationen für Sie zusammengetragen.
Sterile Blasenkatheter & Kondomurinale aus Silikon
Gegen das Vergessen wichtiger Personen und Ereignisse hilft nur, dass sich jemand in Ruhe hinsetzt und deren Chronic, bzw. Geschichte niederschreibt. Deshalb haben wir uns die Mühe gemacht und den Werdegang des US-amerikanischen Unternehmens »Rochester Medical Corporation« recherchiert.
Nachfolgend möchten wir die Meilensteine der Firma verewigen, um den Unternehmergeist der Gründungsväter zu würdigen. Durch die innovativen Produkte wurden vielen von Harninkontinenz betroffenen Personen geholfen, zu einem würdevollen Leben zurückzufinden.
Wenn Sie Erfahrungen mit den Rochester Medical Produkten gemacht haben oder sich Fragen, Anmerkungen, Korrekturen oder Ergänzungen ergeben, hinterlassen Sie uns über die Kommentarfunktion bitte eine Nachricht.
Rochester Medical – Eine bewegende Firmengeschichte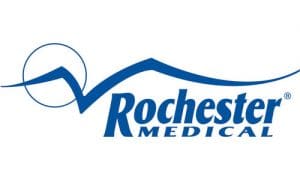 Die Firma »Rochester Medical Corp.« wurde im Jahre 1988 von den Brüdern Anthony Jim Conway und Philip Jim Conway gemeinsam mit Richard Fryer gegründet. Sie hatte immer ihren Sitz in Stewartville, im US-Bundesstaat Minnesota.
Der Geschäftszweck war die Entwicklung und Produktion von Gesundheitsprodukten, einschließlich medizinischer Einwegkatheter für Männer und Frauen sowie Geräte für urologische Anwendungen und Kontinenzpflege.
Hintergrund der Gründungsidee war unter anderen, das Bekanntwerden der Latexallergie. In den Jahren 1980 bis 1990 wurden die meisten Harnröhrenkatheter noch aus Latex gefertigt. Auch die Patente der externen Katheter für Männer aus Latex griffen die Inhaber auf und wollten diese verbessern. Die Firmen Hollister, Mentor und Coloplast lieferten sich Anfang bis Mitte der 80-iger in diesem Bereich der  einen regelrechten Patentwettstreit. Hierzulande nennt man diese Art von Produkten Urinalkondom, Kondomurinal oder Rolltrichter.
Die Firmenväter wollten die medizinischen Produkte aus gesundheitlich unbedenklichem Silikon anbieten. 1989 baute Rochester Medical, Inc. eine 34.000 Quadratmeter große Produktionsstätte und erhielt 1990 die Zustimmung der FDA (US Food and Drug Administration) für seine Einrichtung. Das Unternehmen entwickelte dort im selben Jahr seinen ersten externen, selbstklebenden Silikonkatheter.
Große Erfolge in der medizinischen Silikonforschung
1991 wurde die Unternehmung unter der Bezeichnung ROCM an der NASDAQ Börse notiert. 1992 begann das Unternehmen mit der Erforschung von gesundheitsverträglichen Kathetertechnologien mit keimfreien Eigenschaften.
Rochester Medical´s Verkaufszahlen erreichten 1993 eine Million US-Dollar. Während dieser Zeit entwickelte das Unternehmen sogenannte Foley Katheter aus Silikon. Der integrierte Ballon und der Ablaufschlauch waren nun in einem Stück. 1994 expandierte das Unternehmen auf den internationalen Markt und sicherte sich fortan zahlreiche Patente für diverse Kathetertechniken.
Einige Patente der Unternehmung sind:
Seit 1995 ist offiziell der erste selbstklebende Außenkatheter für Männer aus Silikon erfunden worden (Silicone self-adhering male external catheter).
Nach der Einführung des ersten intermittierenden Silikonkatheters im Jahr 1997 erhielt die Firma auch Zertifizierungen für Qualitätsstandards für die europäische Medizinproduktebene. Für die sterile Kathetertechnologie wurden 1999 europäische Patente gewährt, die die Jahresumsätze des Unternehmens im Jahr 2002 auf über 10 Millionen Dollar erhöhten.
Rochester setzte sein Wachstum und seine Innovation in den ersten 2000-er Jahren fort. Weitere Meilensteine waren im 2003 die Einführung von »Intermittierende hydrophilen Kathetern aus Silikon«, im Jahr 2004 »Intermittierende hydrophilen, sterile Katheter aus Silikon« und im Jahr 2005 »Geschlossene, Intermittierende hydrophile Katheter aus Silikon«. Dadurch setzte die Firma im Jahr 2006 20 Millionen US-Dollar und im Jahr 2007 30 Millionen US-Dollar um.
Das Haifischprinzip: Ein Firma schluckt die nächste
Um auf dem Europäischen Markt aktiver zu sein, erwarb das Unternehmen von dem Konkurrenten Coloplast im Jahr 2006 Geschäftsanteile und gründete die Niederlassung Rochester Medical Ltd. [Link]. Das Interessante daran ist, dass Coloplast wenige Monate zuvor im März 2016 die gesamte Urologie-Sparte der Firma Mentor, Inc. übernommen hatte. Mentor war 1981 einer der Erfinder des Urinalkondoms.
Somit war der Weg für den europäischen Vertrieb der drei Urinalkondom-Marken POP-ON®, Wideband® und Ultraflex® frei. Ein paar Jahre später ermöglichte Rochester einigen deutschen Firmen die drei Kondomurinale unter einer eigenen Marke zu verkaufen. z.B. BRAUN Urimed Vision Standard und Short; Hollister InView Extra und Special; UROMED Standard und Sportiv; UROMED Ultraflex, Pop-On und Wideband; Dr. Junghans Medical Urinal Kondom sowie die Marken Büttner Frank, MBH Qufora und GHC (German Health Care). Auch C. R. BARD hatte die Kondomurinale aus Silikon im Programm.
Obwohl der US-amerikanische Markt nach einer Gesetzesänderung für sterile, intermittierende Katheter nicht sehr attraktiv war, lag im Jahre 2010 der Jahresumsatz der Rochester Medical bei über 40 Millionen Dollar.
Zu guter Letzt übernahm Rochester im Jahre 2011 die Firma Laprolan B.V. in den Niederlanden. Laprolan vertrieb Produkte für die Wundversorgung, Stomapflege und Urologie auf dem niederländischen Markt.
Der Expansionskurs, sowie der Erfolg beunruhigte den Hauptkonkurrenten C.R. BARD. So dass es immer häufiger zu juristischen Streitigkeiten kam. Schließlich kaufte C. R. Bard im Jahre 2013 Rochester Medical für 262 Million US-Dollar. Damit war BARD wieder globaler Marktführer auf dem Kathetermarket. [Link 2]
2016 verkündete BARD die schockierende Nachricht [Link 1], [Link 2], [Link 3], die ehemalige Niederlassung der Rochester Medical in Stewartville, Illinois zu schließen. 185 Mitarbeiter verloren ihre Jobs.
Doch damit nicht genug: Im Jahre 2017 wurde wiederum C.R. BARD für 24 Milliarden Dollar vom Pharmakonzern BD – Becton, Dickinson and Company aufgekauft. [Link] Heute ist BARD eine 100%-ige Tochtergesellschaft von BD.
Produkte von Rochester Medical
Wir haben drei Produktkataloge als PDF gefunden: 2010, 2011, 2013
Die Firma stellte folgende Produkte her:
Urinkatheter
StrataSI ® und StrataNF ® Silicone Foley catheters / Foley Katheter (Dauerkatheter, Ballonkatheter)
Magic3 / Magic3 Intermittent catheter – Einmalkatheter zur Blasenentleerung
Antibacterial Hydro Personal Catheter ® – |ntermittierende Katheter
Hydrosil – Female hydrophilic catheter
ReleaseNF Anti-Infection Silicone Foley Catheter
Urinary Leg Bags (Urin Beinbeutel)
Urinalkondome für Männer (Male external catheter)
Neben den Produktnamen Clear Advantage Spirit, Clear Advantage Aloe wurden angeboten:
WideBand ™
Pop-On™
UltraFlex™
Natural External Catheter
Spirit Hydrocolloid Sheath Male External Catheter, Style 1 (Urinalkondom mit Hydrokolloidbeschichtung)
Spirit Hydrocolloid Adhesive Sheath, Style 2
Spirit Style 3 Hydrocolloid Sheath Male External Catheter
Weibliche Inkontinenz
Fazit
Rochester Medical leistete in seinen zwei Jahrzehnten des Bestehens wichtige Beiträge zur Kathetertechnologie. Die Verwendung der Urinalkondome wurde durch die latexfreie Herstellung und die Vertriebsstrategie in Europa populär. Die Marken »Wideband«, »Pop On« und »UltraFlex« kennen fast alle Anwender externer Katheter.
Nachdem der Konkurrenten C.R. BARD das Unternehmen im Jahre 2013 übernahm, erfolgte schon 2017 die Schließung des Standortes.
Vermutlich werden die Produkte in einem Werk in Mexiko produziert – Genaueres konnten wir nicht mehr recherchieren. Wir werden die Entwicklung weiter beobachten. Es wäre wünschenswert, wenn die Silikon Kondomurinale weiterhin verfügbar bleiben.
Quellen: